Angela Merkel, 64, has led the centre-right Christian Democratic Union (CDU) party in Germany for 18 years. Now, as she prepares to make way for her successor as chair of the party, she has repeated her intention to see out her term as chancellor.
The Guardian's Kate Connolly in Berlin reflects on the end of an era in German politics. She highlights the refugee crisis of 2015 and the Greek debt crisis of 2009 as critical moments in what will become Angela Merkel's legacy.
Also today: Rania Ali was one of thousands of Syrian refugees who arrived in Europe after 2015. She documented her journey in a Guardian video and argues that stereotypes about refugees should be challenged and resisted.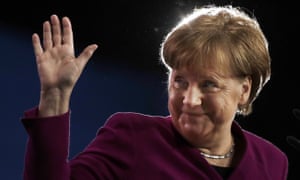 Original Source