Fox News, which frequently provides favorable coverage of President Donald Trump and his administration, is standing by CNN in its lawsuit over the White House removing reporter Jim Acosta's press credentials.
"Fox News supports CNN in its legal effort to regain its White House reporter's press credential. We intend to file an amicus brief with the U.S. District Court," network President Jay Wallace said in a statement Wednesday. "Secret Service passes for working White House journalists should never be weaponized."
Wallace added: "While we don't condone the growing antagonistic tone by both the President and the press at recent media avails, we do support a free press, access and open exchanges for the American people."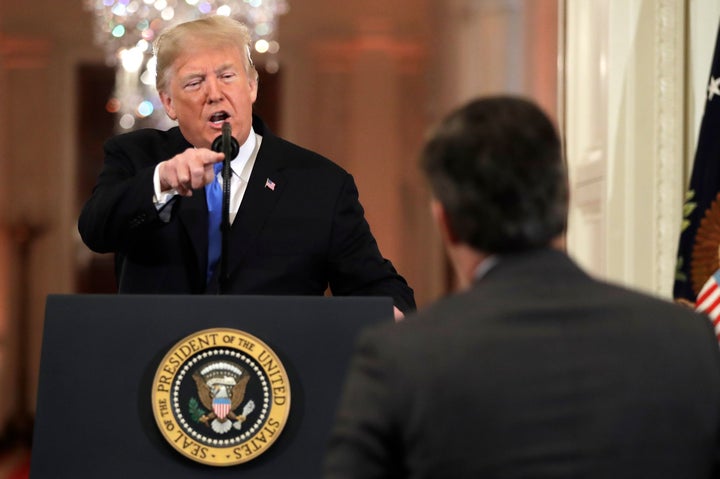 In the lawsuit, the network said it seeks an immediate restraining order restoring press access for Acosta.
CNN's lawsuit was assigned to U.S. District Court Judge Timothy J. Kelly, who was appointed by Trump and previously worked for Senate Judiciary Committee Chairman Chuck Grassley (R-Iowa).
An initial hearing is scheduled for Wednesday afternoon.
White House officials have shifted their story about the rationale for revoking Acosta's "hard pass," which grants him access as a member of the White House press pool.
Press secretary Sarah Huckabee Sanders initially tweeted an apparently doctored video promoted by the right-wing conspiracy website Infowars, purporting to show Acosta placing his hands on the White House intern who was trying to take away the microphone he was using during the press conference.
In responding to the lawsuit on Tuesday, she accused Acosta of being rude to other reporters and said he and the network were "grandstanding."
Journalism and press advocacy organizations have defended Acosta and condemned the White House for its decision, one of a series of incidents involving Trump and his administration encouraging animosity against reporters and trying to infringe on press freedom.
This story has been updated with more background information.
Original Source