Former President George W. Bush remembered his late father, former President George H.W. Bush, as a humble leader, mentor, man of faith, and "the best father a son or daughter could have" in a touching eulogy at Washington National Cathedral on Wednesday.
Speaking at a ceremony attended by President Donald Trump and his wife, all former living U.S. presidents and first ladies, and an array of world leaders, the eldest Bush son spoke proudly and candidly of his father, who died on Friday at the age of 94 in Houston. 
"When the history books are written, they will say that George H.W. Bush was a great president of the United States: a diplomat of unmatched skill, a commander-in-chief of formidable accomplishment, and a gentleman who executed the duties of his office with dignity and honor," he said.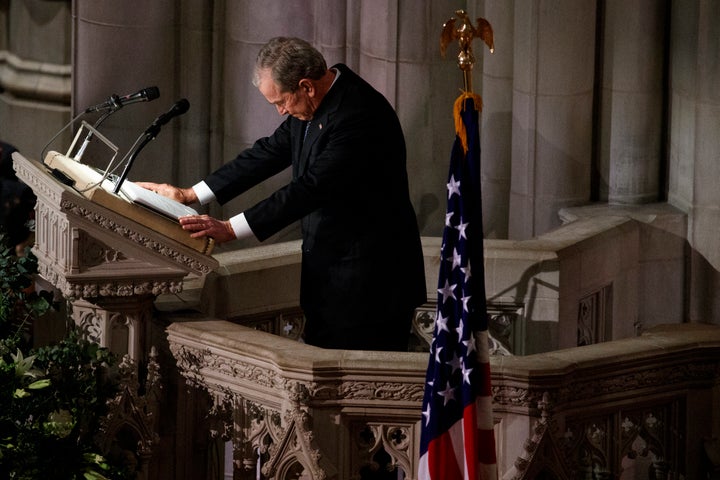 As other eulogists have noted since the 41st president's death, the 43rd president spotlighted his father's dedication to service and zest for life ― from enlisting in the Navy after turning 18 during World War II to periodically skydiving after he left the White House, including on his 90th birthday.
The younger Bush suggested that his father's at times frenzied lifestyle may have been inspired by two near-death experiences ― an illness in his youth and when, as a Naval aviator, his plane was shot down.
"He taught us that a day was not to be wasted," Bush said, citing the oft-noted speed with which his father played golf. "He played fast so he could move on to the next event, to enjoy the rest of the day, to expand his enormous energy."
"He was born with two settings," Bush added. "Full throttle, then sleep."
The two Bushs were the second father and son to serve as U.S. presidents. (John Adams and John Quincy Adams were the first, in the republic's early years.) Both Bushs confronted unprecedented challenges while in office ― the elder one had to respond to the dissolution of the Soviet Union and the remaking of Eastern Europe; the younger one to the 9/11 terrorist attacks that killed about 3,000 Americans.
Their behaviors differed in how they dealt with these and other crises. George H.W. Bush was known for a deliberative, behind-the-scenes approach to diplomacy that stressed building alliances with foreign leaders. His son had a more impulsive style and more of a willingness to take actions that strained relations with some U.S. allies. Their policies toward Iraq dramatically exemplified these differences.
When Iraqi dictator Saddam Hussein invaded Kuwait in August 1990, the elder Bush carefully built international support for a U.S.-led military response. In early 1991, Operation Desert Storm quickly routed Iraqi forces from Kuwait but stopped short of continuing on to Baghdad to overthrow Hussein. The elder Bush was concerned about destabilization in the Middle East that might result from such a move.
The younger Bush, as part of his response to the 9/11 attacks, seemed hellbent on overthrowing Hussein. Relying on what turned out to be erroneous intelligence information and ignoring opposition from much of the international community, he asserted an invasion of Iraq was needed to prevent Hussein from potentially using weapons of mass destruction. No weapons were ever found, and the U.S.-led invasion plunged Iraq and the surrounding region into turmoil that continues to play out.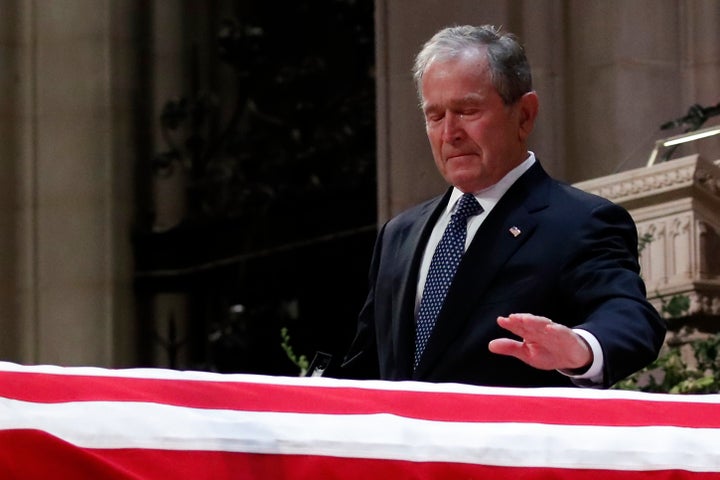 George H.W. Bush was born into a well-heeled New England family and he had a patrician's upbringing. But in his eulogy, George W. Bush described his father as a humble man who "could relate to people of all walks of life."
"He valued character over pedigree and he was no cynic. He looked for the good in each person and he usually found it," he said. "In victory, he shared credit. When he lost he shouldered the blame. He accepted that failure is a part of living a full life but taught us to never be defined by failure."
As a family man, Bush said his father made his children believe "that anything was possible." After the death of his 3-year-old daughter Robin from leukemia in 1953, the elder Bush prayed for her daily, his son said. 
He valued character over pedigree and he was no cynic. He looked for the good in each person and he usually found it."
Briefly shedding tears as he spoke, Bush lauded the late president as "the best father a son or daughter can have."
He said that as a husband, his father was a man to aspire to be.
"Dad taught us all what it means to be a great husband. He married his sweetheart. He adored her. He laughed and cried with her. He was dedicated to her totally," he said of former first lady Barbara Bush, who died in April at the age of 92. The couple were married for 73 years and had six children.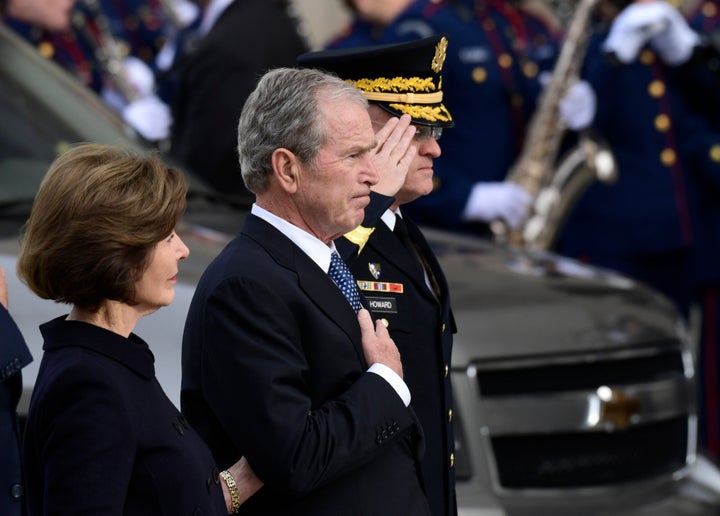 "In his old age dad enjoyed watching police show reruns, the volume on high, all the while holding mom's hand," his son said. "After mom died, dad was strong, but all he really wanted to do was hold mom's hand again."
Following the service, the elder Bush will be transported back to Houston for burial alongside his wife and daughter Robin.
Original Source