Ericsson says an expired software certificate was responsible for the outage that left tens of millions in the UK unable to call or text from their mobile phones on Thursday.
The Swedish equipment maker, which manufactures much of the backend gear in the world's cellular networks, said today the outage was down to an expired certificate in a version of its management software used by a number of European telcos to provide services to subscribers.
Expired certificate equals non-working software equals non-working mobile service for folks.
"During December 6, 2018, Ericsson has identified an issue in certain nodes in the core network resulting in network disturbances for a limited number of customers in multiple countries using two specific software versions of the SGSN–MME (Serving GPRS Support Node – Mobility Management Entity)," the supplier said. Crucially, it added:
While the expired certificate was present in software used by O2 and its parent Telefonica, the outage also rolled downstream to the likes of GiffGaff, Sky Mobile, TalkTalk, Lyca, and Tesco Mobile, who rely on O2's network for their services. As a result, some 32 million people were without cellular service, and had to resort to Wi-Fi where possible.
Ericsson said that, with the cause of the issue now isolated, it was working to get all of its customers back online.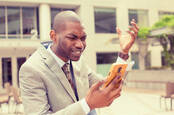 Total Inability To Support User Phones: O2 fries, burning data for 32 million Brits
"During the course of December 6, most of the affected customers' network services have been successfully restored," Ericsson explained. "We are working closely with the remaining customers that are still experiencing issues."
While a full report on what exactly went wrong is still being put together, Ericsson CEO Börje Ekholm has already vowed to take the offending software round back behind the barn.
"The faulty software that has caused these issues is being decommissioned and we apologize not only to our customers but also to their customers," Ekholm said. "We work hard to ensure that our customers can limit the impact and restore their services as soon as possible."
The network outage isn't just forcing British mobile users to put down their phones and talk to one another. Transport for London's timetable service was knocked out in the blackout, as were some healthcare providers, for example.
"The [National Health Service] trust I work for has lost connection of all the Apple iPads that are used for patient report forms," a Reg reader told us. "This is extremely worrying seeing that every emergency service will be using a 4G network for the entirety of their critical communications. This outage would've put lives at risk if ESN was live!" ®
Original Source